Patronage's work
Оn February 9th, 2004 a special action of local fox adoption was held in Ekaterinburg Zoo.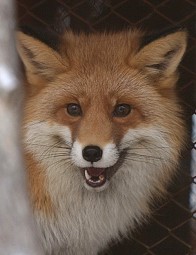 Starting from this date Basketball Players of UMMC Team, Twice Champions of Russia and Euro League Champions have taken a personal care of its living talisman – fox Masha.
This fox has become the Basketball Team's talisman not by chance. The ex-player of UMMC team, one of the coaches, Olga Korosteleva used to wear the nickname. Sport experts called her the most resourceful and foxy quick basketball player of the Soviet Union.
Now UMMC fox talisman shines on public during games and gives sport inspiration to Basketball Team players.
All team fans have an opportunity to see the living talisman of the Team in Ekaterinburg Zoo.
Besides, UMMC has become the first Club of SLW to possess a real natural embodiment. During the adoption ceremony Masha was officially included to the team by presenting a T-shirt of UMMC Team marked with number 1. This special sign was also installed on the cage.